Taqueria Viva Mexico Kitchen Cafe
133 Morris St, Jersey City, NJ 07302
Order now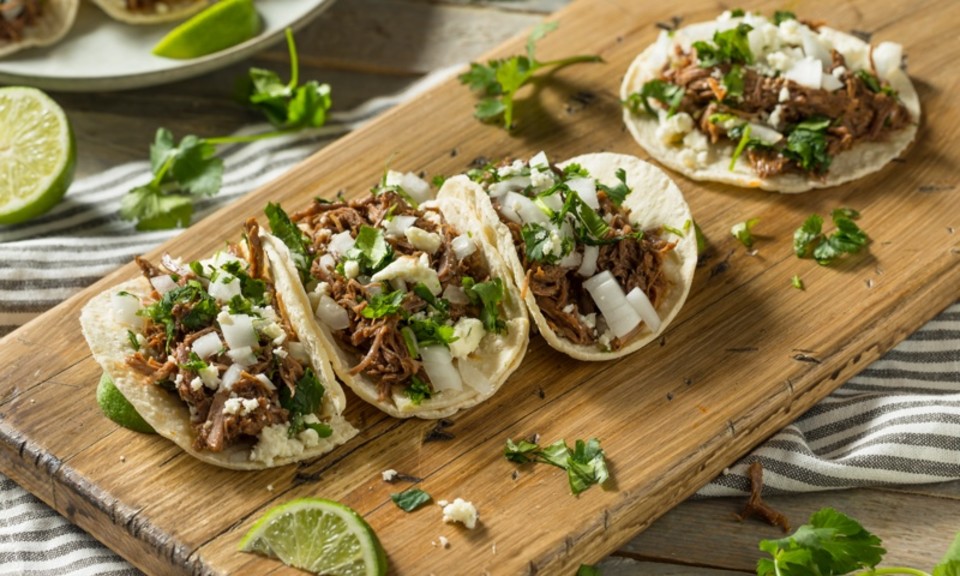 Amber
This place has solid burritos, sopes/sandal, mexican style quesadillas, and huraches (sorry about the spelling). I have ordered from here many times and it is always a solid experience. The homemade corn things that are like extra springy tortilla like things are really great. The accompanying sauces are great and nicely spicy.
Favorites include the mexican chicken quesadillas, shrimp or cactus burrito, and cactus sandal sopes.
Meh on the tacos.
Clyde
Listen ok!!! The food was fresh and the delivery was quick. My coworker put me on one day and I been ordering a meal for lunch and one to take home. This ish is the bomb.com. Ive only tried the Cajun Chicken bowl, no beans, no lettuce. Its not overly spicy and the food is cooked perfectly. I would recommend this place x1000.
iuri
The breakfast burritos here are really good. I haven't been able to find another place that makes such good tamales. This is my tamales spot!
Joe
Best Mexican in the area. Insanely fast delivery. The Mexican quesadillas are bangin. Can't go wrong with either green or red sauce.
Judy
My go to place for wonderful juices and smoothies! Tried the Cajun chicken nachos. Thoroughly enjoyed, fresh and flavorful
Christine
This review is long overdue! Taqueria viva is the best Mexican food in downtown Jersey City. Anyone who says otherwise does not know what real Mexican food is. What I mean by real Mexican food is I mean Mexican American food. I myself am a Mexican American so I should know. With a lot of favorites at this restaurant but I'd say can never go wrong with a chicken burrito or a burrito bowl... the enchiladas with Mole sauce are amazing... and the tamales are a best kept secret! Love this restaurant!
Gene
Wow these people are better than taqueria downtown.

He delivery was ultra fast and the delivery person spoke perfect English.

I even ordered on the late side and they still delivered my order after hours, but I called to make sure after I realized the delivery time was outside their close time.

The food was still hot and the product was still fresh even though I ordered at the end of the day. High quality though and through.

Really impressed!
Lesley
I'm so happy happy happy Taqueria opened in my neighborhood! Their quesadillas, popeye wraps and smoothies are officially three of my food groups. I give them five stars instead of four, because whatever they may lack in the cuisine department (they would rate four stars for sure), they more than make up with courteous, fast, consistent service.
Sharon
Not quite Taqueria Downtown, but this place is delicious and they deliver! I ordered the fish and chorizo tacos and they arrived still warm. I see some reviews mentioning that the food was lacking in flavor, but they were plenty flavorful for me. This will probably be one of my go-to places to order from.
SHILPI
We always order from here. My husband LOVES the chipotle chicken burrito (spinach wrap with the Mexican guacamole). Even family members that have visited have tried the chipotle chicken burrito or bowl and it's a major hit. The food is always fresh, no matter what you order.
About us
American, Breakfast, Dinner, Lunch Specials, Mexican, Sandwiches, Smoothies and Juices, Wraps
Today

Delivery: 9:00 AM - 10:00 PM

Takeout: 9:00 AM - 9:55 PM

Delivery

Monday:

9:00 AM - 10:00 PM

Tuesday:

9:00 AM - 10:00 PM

Wednesday:

9:00 AM - 10:00 PM

Thursday:

9:00 AM - 10:00 PM

Friday:

9:00 AM - 10:00 PM

Saturday:

9:00 AM - 10:00 PM

Sunday:

9:00 AM - 10:00 PM

Takeout

Tuesday:

9:00 AM - 9:55 PM

Wednesday:

9:00 AM - 9:55 PM

Thursday:

9:00 AM - 9:55 PM

Saturday:

9:00 AM - 9:55 PM